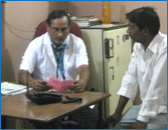 Our Khandelwal Hospital
has a team of highly qualified and experienced specialist consultants in respective specialties. This is the only hospital in this area having computerized testing's and Air conditioned O.T. All laparoscopic surgery performed Gallstone, urethral stones, kidney stone, prostate
surgery, hysterectomy, utrus surgery, abdominal surgery, hernia etc. all surgery performed routinely.
We give best high profile services in rural area especially in the low cost. We facilitate training program to gather the requirements and inclusive challenge. The mix of Paramedical Education and Information Technology on equivalence with the higher learning scheme of the competing world.
Khandelwal Institute
of Paramedical Science And Technology
( Khandelwal Nursing College )
has been established in 2011 and recognized by
BSS Chennai/promoted by planning commission gov. of india, MG University,CMJ UNIVERSITY Meghalaya(coordinator), Rajasthan Health University and Manav Sansadhan Vikas Mantralaya (MHRD) NIOS,karnataka state open university,jodhpur national university,shobhit un. meerut
to provide higher education in the field of paramedical Sciences, Technology and other upcoming important fields. A variety of teaching and learning techniques are employed to impart knowledge and skills to students. we emphasis on the Paramedical and medical education programs on developing cadre among girls, women, SCs, STs, rural youth.we provide 100% training to students.
To make you special and fit for job in the field of Para Medical courses like CT Scan Technician, MRI
Scan Technician, Radiology and Imaging Technology, Operation Theatre Technology, Diploma in Practical Nursing (DPN) etc. The Institute aim to grow in status and provide quality higher education to the students.
WE MANAGE OTHER COURSES BY UNIVERSITIES ALL INDUSTRY COURSES.